Barb Wire Dolls at Moe's Original BBQ, Englewood
CREDITS:
Photographed 9/5/2015
Photographer: David Arnspiger
I became aware of Barb Wire Dolls in 2012. I had contacted their guitarist, Pyn Doll about shooting one of their shows at The Viper Room. Sadly, due to a medical issue I was dealing with at the time, I could not make the show.
I got another shot in 2014 after I moved to Las Vegas, Nevada. They were playing a club on Fremont Street right near where I was working at the time. Unfortunately, my health got in the way a second time and I had to miss another opportunity.
I moved to Fort Collins, Colorado in early 2015, thinking my days of shooting bands were pretty much over, or at least limited in scope. Much to my surprise, I heard they were going on a cross country tour and had a stop planned in Englewood, Colorado, just south of Denver. A short 1 hour drive for me.
I contacted Pyn Doll again, and he put me on their guest list. Finally, after three years of trying and no health issues in the way, I managed to secure the opportunity to shoot Barb Wire Dolls......at Moe's Original BBQ in Englewood, CO.
Let's start with the venue, Moe's Original BBQ. The restaurant portion is basically a long room with a bar and kitchen on the right and seating down the left and a small stage area at the back. Right next door they also operate a bowling alley with 8 lanes. It's a really cool place, and their pulled pork sandwich was quite good.
The weird part is that it has live music. The stage area has great sound, but it is tiny, and filled with restaurant storage. It has about 5 LED lights aimed roughly at the stage causing unusual light and dark spots that make it very hard to shoot. Lucky for me, the spot on the center hits the singer pretty well. The rest of the band is kind of screwed unless you use flash, which I don't.
There were two other bands that came on prior to the Barb Wire Dolls. Both were good acts, but as I expected, nothing compares to the Dolls. Their lead singer, Isis Queen, is someone I put on par with great rock frontwomen like Debbie Harry and Chrissie Hynde. There is just something special about her, and it would be a crime if she did not achieve their same level of music greatness.
She is also very sweet. She came into the room, said hello to members of the other bands and then set up the band merch table. She handled fans with grace and posed for selfies, one of which was of her and me (Thank you Isis!). She did it with a smile and was very nice to talk to. She does not come off as a star, even though she is one in my book.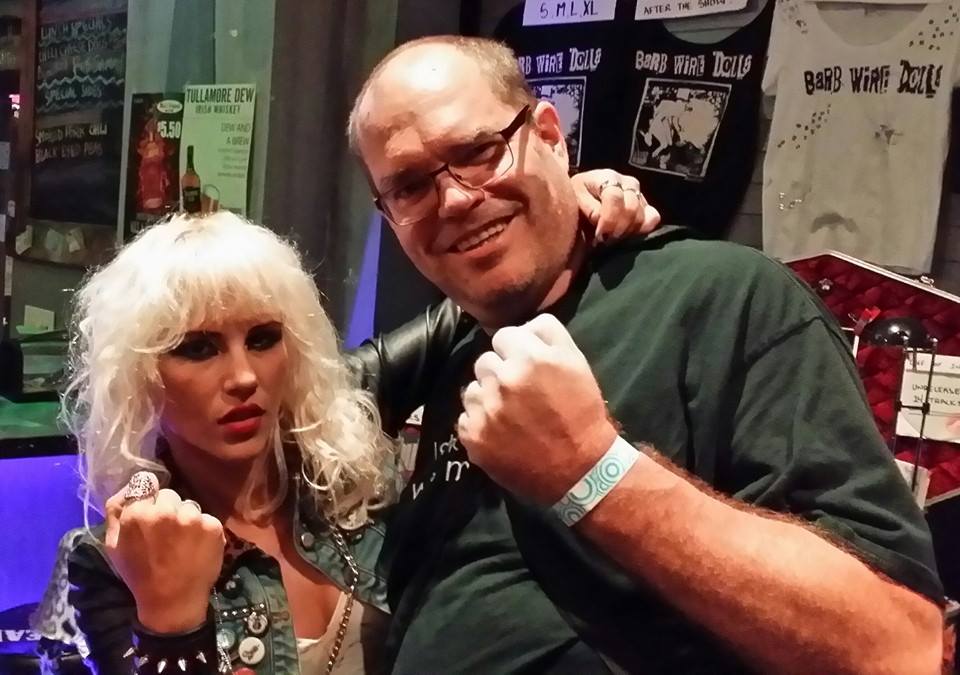 I also got a chance to talk to Pyn Doll for a few moments as he set up on stage. He too has proved to be someone with the air of rock greatness about him while being very down to earth and kind. I didn't want to distract him for long, but I wanted to introduce myself and thank him for allowing me the opportunity. (NOTE: I know they openly encourage photography and video at their shows, but it still feels special to be placed on their guest list to shoot for them.)
They played a great set that lasted over an hour and included 'Revolution', one of my favorite tracks from their 2012 album 'Slit'.
I had a terrific time, and while the pics I got are not what I would call my best concert work ever, I am not unhappy with them. The band has already used a couple of them.
Barb Wire Dolls is an important band in my opinion. They should be heard by everyone. Please buy their music and go to their shows. You will get your money's worth and you will help to support a special band that I think has great things ahead. A new album is coming soon too. Keep Barb Wire Dolls on your musical radar.
Enjoy the images below.